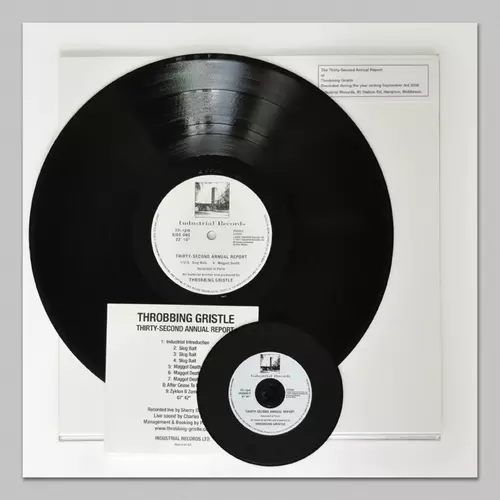 The Thirty-Second Annual Report of Throbbing Gristle
| Format | Price | Buy |
| --- | --- | --- |
| The Thirty-Second Annual Report of Throbbing Gristle | £120.00 | |
Sorry, The Thirty-Second Annual Report of Throbbing Gristle is out of stock.
Description
Throbbing Gristle - The Thirty-Second Annual Report of Throbbing Gristle
Industrial Records Ltd. is proud to announce a special limited edition in commemoration of the 30th anniversary of the release of Throbbing Gristle's first album 'The Second Annual Report' as well as to mark and celebrate the official re-activation of the Industrial Records label.
This 12" 180gm vinyl LP comprises a recording of Throbbing Gristle's live demonstration at La Villette in Paris on 6th June 2008 at which they performed a reinterpretation of their original album.
This album is pre-framed in bespoke, high-quality white gloss acrylic with an easy access clear window for removal of the record/sleeve (see photos below) and ready to hang.
Purchasers of this unique object will also receive a special 'black' extended CD version, which includes extra tracks that would not fit on the vinyl format.
In addition, all buyers will have access to a free digital download of the extended version and a PDF booklet of text and photos on the albums release.
This edition is limited to 777 copies, the same number as the original pressing.
The package price is £120 + P&P
DUE TO THE SIZE WEIGHT, HIGH VALUE AND LIMITED NATURE THIS ITEM IS SHIPPED BY SECURE INSURED INTERNATIONAL COURIER:

DELIVERY WILL BE MADE BETWEEN 9AM & 5PM MONDAY TO FRIDAY... PLEASE PROVIDE A DELIVERY ADDRESS WITH THIS IN MIND
(if the delivery is unsuccessful at least one further attempt will be made however if this is unsuccessful the item will be returned to us and we will, unfortunately, be obliged to charge for re-delivery)
Framed Vinyl and CD.
Framed Vinyl.
Rear of frame, vinyl removed.
Side view removing vinyl from frame.
Side view, vinyl in frame.
Reviews
The Quietus - Luke Turner
The Thirty-Second Annual Report of Throbbing Gristle
When originally released in 1977, Throbbing Gristle's landmark Second Annual Report was a fragmented collection of live and studio recordings, collated during their early sonically and ideologically radical excursions around the moribund punk landscape of late 1970s Britain. This 32nd Annual Report of Throbbing Gristle live recording connects those traumatic sketches and confrontational ideas with modern technology and recording techniques. The rough and hissing originals, under the "movements" of 'Slug Bait', 'Maggot Death' and 'After Cease To Exist' are reinterpreted with all the power of a modern PA behind them. That's not to say that Throbbing Gristle have merely ratcheted up the tension, the horror, the noise. Far from it - this is a group with too intelligent and focused a mindset and vision to rely on shock and awe alone. Indeed, only one of the original pieces of the original sampled dialogue (a disturbing police interview with a child sex offender), remains.
I recall - just about - TG's mid-afternoon set in the auditorium at the 2008 Primavera festival, where they aired much of the material presented on this release. It was loud, certainly, intense, definitely. But there was a subtlelty and precision to the sonic presentation, the likes of which I have never heard before. You could feel balls of sound gathering behind your shoulder, then feel them zipping around the room before metamorphosing into cold steel slivers in the minds of all present. That afternoon TG created an unsettling physicality of sound that this performance, recorded a few days later at La Villette in Paris, captures brilliantly. There are the endless bass pulses, either sinuous or reminiscent of a steam hammer left to its own devices; the sudden crystalline shivers of electronic treble; and, as much as this, an awareness of the potential of quieter moments where silence isn't a respite, but a lurking threat.
Live renditions of canonical albums are generally disappointing affairs - Sonic Youth's run through of Daydream Nation earlier this year being a case in point, a mid-life-crisis in conservative guitar onanism. Indeed, surely the prospect of The Bluetones playing Expecting To Fly in its entirety at the London Astoria is more repellent than even COUM Transmissions' infamous castration video? The 32nd Annual Report of Throbbing Gristle, then, succeeds because it is a reinterpretation of the ideas and forms of the original - it retains the facade of the earlier structure, but behind constructs a new installation that hums with contemporary mechanics and a slick and terrible modernity. Throbbing Gristle are a unit still capable of pushing and punishing barriers with an eloquence and power largely unrivalled among either their contemporaries, or industrial protegees. We can only hope that their reunion still has many years to run.