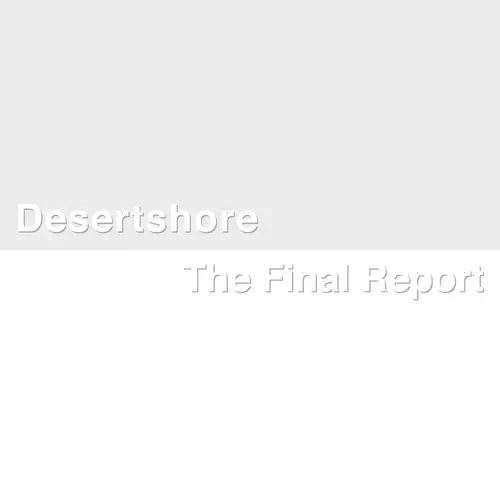 Desertshore / The Final Report
Available Formats
Tracks
Price
Buy
Download Double Album (

FLAC

)
19 tracks

£

15.98

Download Double Album (

MP3

)
19 tracks

£

15.98
Description
X-TG - Desertshore / The Final Report
DESERTSHORE / THE FINAL REPORT

The much anticipated debut two album X-TG release on Industrial Records.

DESERTSHORE
The 'Desertshore' project is a 're-imagined' cover version of Nico's seminal 1970 album first conceived by the late Peter 'Sleazy' Christopherson in Berlin 2006. In 2010 at his home in Bangkok, he refocussed his approach readying to record guest vocalists while Chris and Cosey prepared material in their UK studio for his return there in December. Sadly, Sleazy unexpectedly died in his sleep on the 25th November in Bangkok.
Chris and Cosey made a commitment to Sleazy to complete the 'Desertshore' project picking up from where they left off just prior to his untimely passing. With enthusiastic support and contributions from so many who were close to Sleazy, especially the guest artistes whose work he admired; Antony, Marc Almond, Blixa Bargeld, Sasha Grey and Gaspar Noé, the project is now complete.

THE FINAL REPORT
Throughout their 36 year friendship Chris Carter, Peter 'Sleazy' Christopherson and Cosey Fanni Tutti produced many pioneering and acclaimed collaborative works together.
These trio sessions were without exception always very productive; ideas that produced many hours of recordings, sound experiments, research in new performance possibilities, visuals, the ongoing design and building of new and innovative instruments; a constant restless exploration of new paths together.
'The Final Report' album has been completed from their final 2009/2010 sessions together at Chris and Cosey's studio in Norfolk. This album stands as the final report; a celebration, a loving remembrance of their unique partnership.

The Digital Download also includes an 8-page PDF booklet.

Tracklistings:

Desertshore:
Janitor Of Lunacy
Abschied
Afraid
The Falconer
All That Is My Own
Mutterlein
Le Petit Chevalier
My Only Child
Desertshores

The Final Report:
Stasis
E.H.S.
Breach
Um Dum Dom
Trope (Bonus Track)
What He Said
In Accord
Gordian Knot
Emerge To Space Jazz
The End

Please note:
In addition to the Bonus Track some tracks on the Digital Download versions of these albums are longer than on the vinyl release.
Reviews
Alexis Petridis
The Guardian, Thursday 22 November 2012
★★★★★ 5/5
X-TG
Desertshore/The Final Report
Industrial Records
2012
Of all the bands who've staged reunions over last decade or so, perhaps the most vexing was that of industrial pioneers Throbbing Gristle. The four members' intention was presumably to see what new artistic paths they might forge together, almost a quarter of a century after they split acrimoniously. And yet reunions are almost unavoidably predicated on nostalgia. Delightful as it was to hear audiences deliriously greeting music as relentlessly negative and unpleasant as Slug Bait or What a Day, the very idea of a reformed TG playing what you might loosely term "the hits" to a rapturous response – or even performing a classic album live in its entirety, as they did on the 30th anniversary of their legendarily punishing debut, The Second Annual Report – seemed somehow at odds with the very essence of Throbbing Gristle, whose frontman Genesis P-Orridge once claimed: "We try to imagine the audience are already dead and then we don't have to refer to their wants or desires or feel we're trying to pander to what they want us to be." Furthermore, here was a band who set out to be the very antithesis of a rock group – "to burst open the blistered lie rock'n'roll culture was telling about rebellion and transgression", as the sleeve notes to this two-CD set put it – behaving suspiciously like a rock group.
A TG fan troubled by this might have felt reassured by the announcement of the Desertshore project in 2007. Here was an idea only Throbbing Gristle would come up with: a complete reworking of Nico's fearsome 1971 album, the initial recording sessions for which took place in front of an audience at the ICA. You could never have confused the latter with a gig: the sessions began at noon and went on for 12 hours, with the band members "bickering, recording, playing back, retaking, wandering about, joking with each other, and drinking cups of tea" rather than engaging with their audience. The initial results were released on a 12-CD box set, but the album project was derailed: first Genesis P-Orridge left TG midway through a European tour, then Peter "Sleazy" Christopherson, apparently the driving force behind the project, died unexpectedly in his sleep in November 2010.
His bandmates Chris Carter and Cosey Fanni Tutti's decision to finish the album as a tribute to Christopherson, using guest vocalists, has proved controversial, despite the fact that it doesn't bear Throbbing Gristle's name – a brief war of words erupted on Twitter with an aggrieved P-Orridge – but listening to it, you are grateful they did. For one thing, the choice of source material is inspired: by the early 70s, Nico was a very Throbbing Gristley kind of artist – more indebted to the European avant garde than anything in the rock canon, her vision so bleak and parched and confrontational it virtually defied audiences to enjoy it. In addition, the original Desertshore album is so sparse it allows a lot of room for interpretation: its spaces are filled here by clanking rhythm tracks, droning synthesisers, bursts of fearsome guitar noise and mournful, foghorn-like blasts of brass.
It is a resolutely downcast listen, as you might expect given both the grim tenor of Nico's songs and the circumstances of its creation. The final track, featuring an array of voices – from Mute Records' founder Daniel Miller to avant-garde artist Vicki Bennett – each bidding Christopherson farewell with the words "meet me on the desertshore" over a backing of spectral piano chords and echoing electronics is incredibly moving. Equally, there is real beauty amid the darkness. The moment when Antony Hegarty's vocal emerges from the murky noise of Janitor of Lunacy is genuinely spine-tingling: his voice has become a familiar sound, but as with his guest appearance on Hercules and Love Affair's Blind, a different musical context reminds you what a strange and unique thing it is. Marc Almond's version of The Falconer, meanwhile, is gorgeous and richly melodic – not adjectives often associated with the oeuvre of Throbbing Gristle, but ones that equally apply to My Only Child, sung by Tutti. While Almond approaches his song in full-on tragic diva mode to considerable effect, Tutti's voice is plaintive and unadorned, and the song's melody has an oddly Christmas carol-like quality, the music behind her crashing and booming.
Desertshore is paired with a second CD, featuring recordings Carter, Tutti and Christopherson made together under the name X-TG shortly before the latter's death. They're the kind of threatening electronic studio improvisations that provide the bedrock of Throbbing Gristle's original back catalogue. They feel more fresh and potent than anything on TG's 2006 studio album, Part Two: The Endless Not. It's as if abandoning the Throbbing Gristle name, and the legendary reputation that went with it, somehow freed the remaining trio to explore at liberty and make music full of intriguing possibilities. That was precisely the point of Throbbing Gristle in the first place: as a result, Desertshore/The Final Report ends up a perfect epitaph, not merely for Peter Christopherson, but for the band whose name isn't on the cover.